Ben Scott walking for Tiny Steps Charity – Blog 2
"A journey of a thousand miles begins with two Tiny Steps."
Ben Scott of Roy Trevor completed the gruelling 39 mile walk around The Wirral Circular Trail,  with 40 other friends of the charity. Fortunately, the weather was kind and they didn't get wet at all.
The 39 Mile walk took around 13 hours to complete, starting at 7am and finishing at 8pm. Where they were greeted at the Oddies Public House with a refreshing drink!!! And some much welcome food.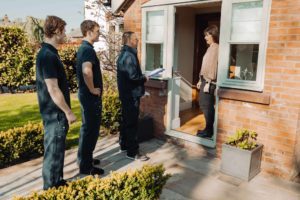 Most of the day was spent chatting to keep up moral, although the 25-mile mark was tough and the whole group went a bit quiet.
The day was a big success and the group managed to raise a whopping £15,000 for the charity, as well as gaining several blisters on their feet!!
Tiny Steps aim is to provide a sensory play area and social cafe for children and young people with additional needs and their families in the Northwich/Winsford area in Cheshire West and Chester.
You can donate to this Great Charity by going to their website.